ADvancing Care is a newsletter for people who work in nursing homes and other residential care settings, and for the families and friends of those who live there.
Anyone who is interested in receiving this free newsletter via email, please click here.
Current Issue - Summer 2017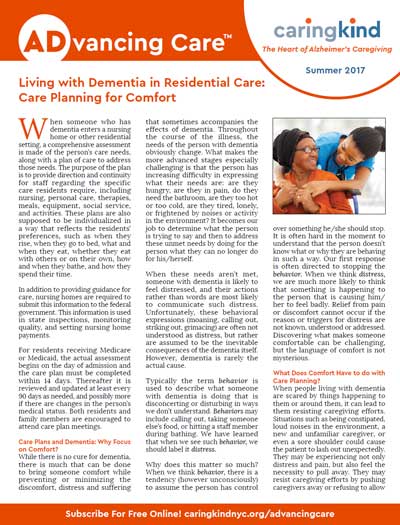 Living with Dementia in Residential Care: Care Planning for Comfort
When someone who has dementia enters a nursing home or other residential setting, a comprehensive assessment is made of the person's care needs, along with a plan of care to address those needs. The purpose of the plan is to provide direction and continuity for staff regarding the specific care residents require, including nursing, personal care, therapies, meals, equipment, social service, and activities.
---
Archives - Summer 2016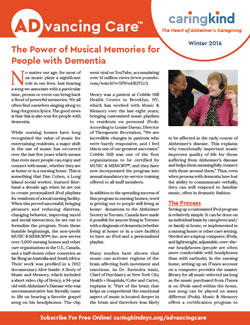 No matter our age, for most of us music plays a significant role in our lives. Just hearing a song we associate with a particular time, person or event can bring back a flood of powerful memories. We all often find ourselves singing along to long-forgotten lyrics. The good news is that this is also true for people with dementia.
---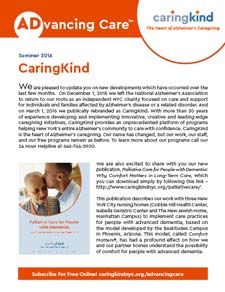 With more than 30 years of experience developing and implementing innovative, creative and leading-edge caregiving initiatives, CaringKind provides an unprecedented platform of programs helping New York's entire Alzheimer's community to care with confidence.