Connect2culture® creates and promotes engaging non-clinical opportunities for people living with dementia together with their caregivers to stimulate conversation, memories, and connections through shared cultural experiences. These programs include garden walks in botanical gardens, dance workshops, music performances, and gallery talks. Many also encompass interactive activities such as planting, art and music making, and dance/movement that are all related to the exhibition or collection. An initiative to encourage cultural organizations to implement caregiver-only programs is also underway.
For a calendar of programs citywide, please click here.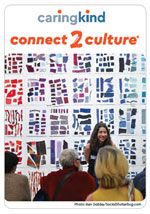 Family Brochure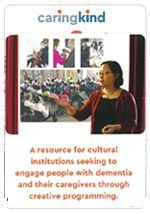 Institution Brochure
Upcoming Events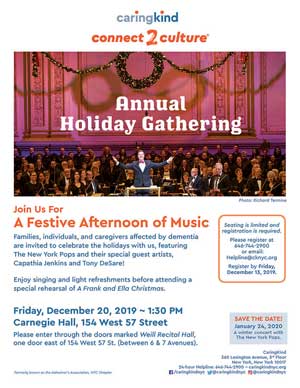 Join us for
Connect2culture Annual Holiday Gathering
A Festive Afternoon of Music
Friday, December 20
1:30pm
Carnegie Hall, 154 West 57th Street
24-hour Helpline at 646-744-2900
Families, individuals, and caregivers affected by dementia are invited to celebrate the holidays with us, featuring The New York Pops and their special guest artists, Capathia Jenkins and Tony Desare!
Enjoy singing and light refreshments before attending a special rehearsal of
Carnegie Hall's holiday concert, "A Frank and Ella Christmas."
Registration is currently full. Save the date January 24, 2020 for another New York Pops concert. Check here again for more information.