Taking on Alzheimer's for our Future
The Junior Committee is a network of young professionals who support and engage each other and the larger Alzheimer's community, advocate for legislation, and raise funds to finance research and programs.
Membership is free and open to individuals who participate in committee activities. Members become eligible to vote in funds allocation meetings and elections by attending four of the six most recent programs, meetings, or events.
JC Meetings
Meetings are open to current and prospective members, and provide opportunities to volunteer, to join new projects, and to meet the board and other members. Meetings are held the second Tuesday of the month at CaringKind.
Contact us: jc@caringkindnyc.org
Upcoming Events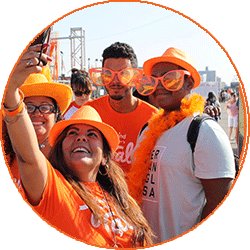 2019 CaringKind Alzheimer's Walk
Sunday, October 13, 2019
Riverside Park

learn more
---