The CaringKind Alzheimer's Teen Board is a group of dynamic youth leaders dedicated to raising awareness about Alzheimer's and dementia and caregiving. The Teen Board advocates for research funding, supports people with the disease and their families, and educates peers and future Gen Z leaders.
Too many teens have grandparents suffering from Alzheimer's and it is our mission to support medical and research advances to cure AD for future generations.

The Caring Teen Board created a brief video with original artwork to tell the history of Alzheimer's Disease.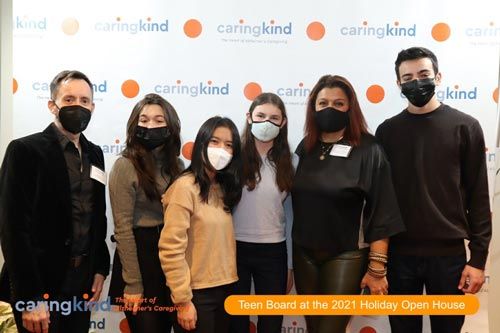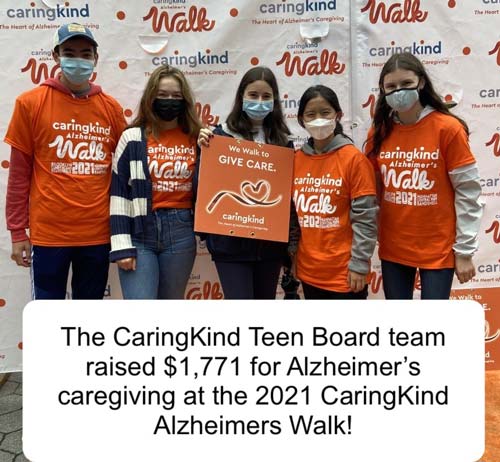 ---
Feature News Spotlights
The CaringKind Teen Board was recently featured in to People TV,  People Magazine Twitter, MSN, and Yahoo Entertainment: Meet These Teens Hoping to Help Their Generation Grapple & Understand Alzheimer's & Dementia
---
Board
Sarah Phillips
President of the CaringKind Teen Board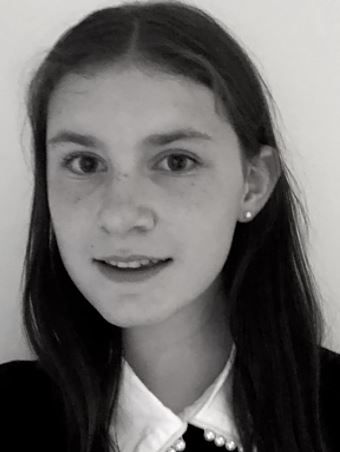 Sarah is an 11th grader in high school and a fierce advocate for Alzheimer's Disease funding, education, and advocacy. Through her school's three-year independent science research program, she interns with an academic researcher after school. Specifically, Sarah conducts data analysis for the researcher's scientific study that examines behavioral differences among mice aged to mimic late-onset Alzheimer's conditions. Sarah also enjoys leading her school's science team, environmental club, and science magazine, The Nucleus.
---
Sophia Liu
Core Leader of the CaringKind Teen Board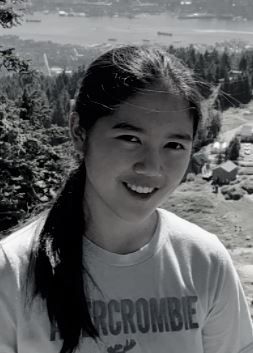 Sophia is a 10th grader in high school. Sophia's grandmother has Alzheimer's, which has made her passionate about raising awareness about this disease. Sophia has also had to navigate language barriers with her grandmother that speaks Cantonese, and learn to connect with her grandmother through the arts. When Sophia is not advocating for Alzheimer's, she enjoys playing soccer and writing for her school's newspaper and political magazine.
---
Eva Herrick
Core Leader of the CaringKind Teen Board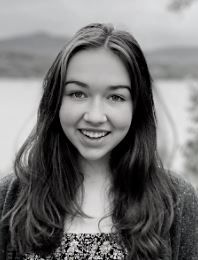 Eva is an 11th grader in high school. Her grandmother had Alzheimer's and passed away earlier this year, which inspired her to further educate herself and advocate for increased visibility for this disease. Throughout Eva's experience with Alzheimer's she found immense value in hearing her grandmother's stories, so when she was unable to tell her them anymore, she dove into work with DOROT, an organization that allowed Eva to connect with older adults in her community. Outside of Eva's Alzheimer's work, she enjoys tap dancing, competing and leading her high school's debate team, and volunteering for a variety of political campaigns.
---
Hailey Schwartzberg
Core Leader of the CaringKind Teen Board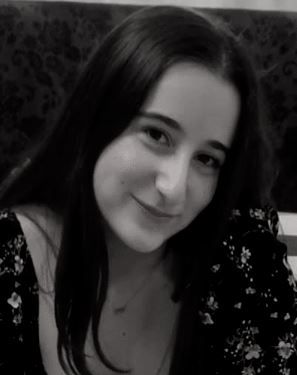 Hailey a 12th grader in high school. She is a part of a three-year independent science research program at her school, where she has been studying Alzheimer's and exploring antibody treatments to the disease in fruit flies. Over the past two years, she not only expanded her scientific knowledge, but also became deeply concerned with the urgency and magnitude of the Alzheimer's crisis. Hailey hopes to help educate other teens and demystify neurodegenerative disease! Hailey is also involved in her school's dance company, student council, newspaper, and debate team, in addition to working with her synagogue every week.
---
Estela Mcmaster
Core Leader of the CaringKind Teen Board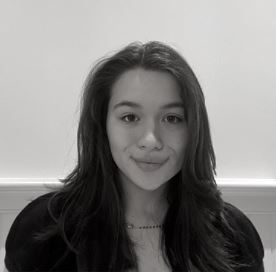 Estela is an 11th grader in high school. Estela's grandmother suffers from dementia. As a survivor of Japanese internment, her grandmother's dementia has brought a lot of her past trauma to the present time. Her dementia inspired Estela to research Dementia and the specific conditions it can cause, as well as the proper ways to interact with those suffering from dementia. Through her experience with her grandmother, Estela found the most success when interacting through storytelling, especially about specific items from her grandmother's vast collection of items. Estela is also a part of her school's dance company, choir, debate team and track and field team.
---
Malcolm Furman
Core Leader of the CaringKind Teen Board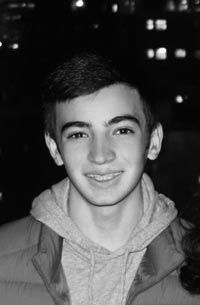 Malcolm is an 11th grader in high school. Through his science studies at school, he has become interested in biology – especially neuroscience, leading him to a summer research internship at the Crary Lab at the Icahn School of Medicine at Mount Sinai that focused on Alzheimer's and other neurodegenerative diseases. Malcolm's grandfather had Alzheimer's and passed away from the disease. He has become passionate about finding a cure for Alzheimer's and raising awareness of the cause, especially among teens. Malcolm enjoys playing tennis, being part of his school's medical publication, and living in New York City.
---
Sohta Cheung
Core Leader of the CaringKind Teen Board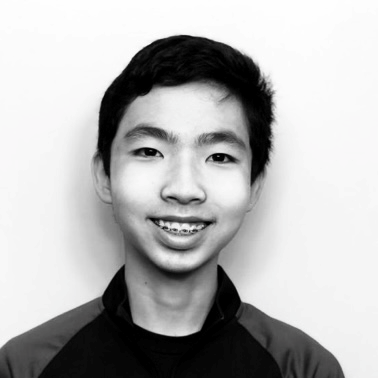 Sohta is in 10th grade at the Riverdale Country School in New York. Last summer, he interned with the Davos Alzheimer's Collaborative supporting the Health System Preparedness workstream. He also served as a Youth Ambassador at UsAgainstAlzheimer's. In addition, he is a volunteer at the Bounce Out the Stigma basketball camp in New Jersey for children with special needs. Academically, he very much enjoys science and math, and wishes to engage in the field of science and medicine in the future. He is fluent in both English and Japanese, and is in his third year studying Chinese.