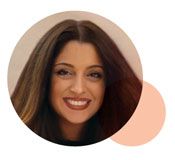 Eleonora Tornatore-Mikesh
President & CEO
Dear Friends of CaringKind,
CaringKind plays a leading role in providing much-needed support and care for individuals and families affected by Alzheimer's disease and related dementias. To support their needs, we advocate for the advancement of research, we partner with the medical and scientific community and we participate in clinical trials. Our public awareness campaigns and advocacy efforts ensure that elected officials at the local, state and national level understand the challenges faced by families affected by a dementia diagnosis.
Of course, because of Covid-19, we've also had the additional challenge of pivoting all of our programs, services, and fundraising to virtual platforms. For an organizations like CaringKind, whose very DNA is about high-touch, person-to-person care and support, this transition was especially difficult. But support from donors like you, we did it. Our almost-90 support groups, education seminars, training, and social work, were transformed into purely digital delivery. In some ways, we are able to serve more people from more places now than ever before.
---
DONATE NOW
If you need to reach us for any reason, including making a stock donation, please call 646-744-2900.
---
CaringKind relies on donations from New Yorkers like you to fund our operations and to keep our programs free of charge. Without you, there would be no CaringKind. Every dollar you donate is tax deductible and directly supports our community.
As the year comes to a close, we hope you will consider making a generous donation to CaringKind so that we can continue to offer our life-changing programs in the year ahead.
On behalf of the families we serve, I wish you a healthy, peaceful and productive 2020 and thank you for supporting our work today and into the future.
Sincerely,

Eleonora Tornatore-Mikesh
President & CEO
Although we've successfully transitioned to virtual programs, many of our key sources of funding couldn't be implemented this way. The Half Marathon, Marathon, Triathlon, and TackleALZ events were all canceled by race organizers. These events represent almost $500,000 in lost revenue for us. Will you please donate today to help us through this continuing crisis?